Ultra Edge
Our ultra gloss and ultra matte products already provide you the edge with outstanding surface stability, scratch and impact resistance, anti-fingerprint and easy to clean surfaces. This is cutting edge technology with high intensity color depth that is resistant to color change over time.
It wouldn't be the same without edge banding to match. Our tapes vary from the exact same acrylic slit to size to end grain wood patterns for center panels in wall units, closets, media centers and other trendy environments.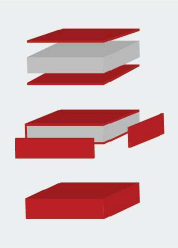 Ultra-X acrylic tapes offer a guaranteed match like no other on the market. Our Edge material is the same material used for our surfaces. An Ultra-X Acrylic component will have the same surface top, bottom and every side. The acrylic tapes are produced in the same factory as the surface material. Therefore, wear, tear and lightfastness will all be equal. This finished part, over time will look uniform and equal all the way around over the life of the furniture. This is an exclusive offering unmatched by others. The Ultra-X tape match is guaranteed or it is free! Can anyone else say that?